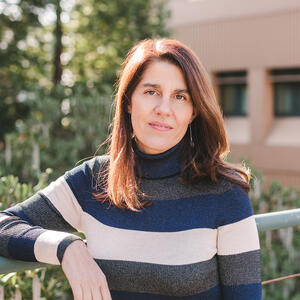 Alessandra Lanzara
Faculty Director
Alessandra Lanzara is the Charles Kittel Professor of Physics at UC Berkeley. As the new Director of the Berkeley Discovery Hub, Alessandra's vision is to leverage Berkeley's distinctive history in social, political, artistic, and scientific change to create a transformative journey for our undergraduate students. Discovery will include academic, experiential, and real-world dimensions, while preparing students with the creative, critical thinking, and problem-solving skills to respond to the challenges and opportunities of a rapidly changing world.
To this new role, Alessandra brings deep insight and knowledge of the University and its mission. She also contributes visionary leadership in areas spanning research, policy, fundraising, and mentorship of diverse student groups, along with her commitment to transforming undergraduate education. She has extensive experience on a range of Academic Senate, campus administration, and UC systemwide committees, and has contributed her vision to recent campus wide initiatives, such as the Environmental Signature Initiative, the Future of Graduate Education and the Chancellor's Advisory Committee on Physical Sciences. 
Alessandra is an internationally recognized physicist, studying the science and technology of quantum materials, materials where quantum phenomena cause unique and unexpected behaviors, making them ideal for the technologies of the future. Through development and application of advanced scientific tools, coherent optical laser drives, and artificial intelligence, her laboratory is at the forefront of materials science and condensed matter research.
She also holds an appointment with the Kavli Energy Nanoscience Institute, and she is both a Senior Faculty Scientist at the Lawrence Berkeley National Laboratory and a Gordon and Betty Moore Investigator. Alessandra received her PhD in physics from Universita' di Roma La Sapienza, Italy and was a postdoc at Stanford University from 2000-2002. She joined the physics department faculty at UC Berkeley in 2002 and was promoted full professor in 2011. 
From 2018-2022, she served as Chair of the American Physical Society, Far West Section, doubling the number of members and enabling new experiential learning opportunities for undergraduate students across the region of California, Nevada and Hawaii. She also served in the Science Policy group in the Presidential Campaign, advocating for the importance of science education that goes beyond literacy and prepares the next generation of critical thinkers. In 2018, she founded and currently directs the Center for Sustainable Materials and Innovation, one of the first centers in the nation focusing on sustainable material engineering. 
Alessandra has received numerous honors and recognitions for her scientific contributions and discoveries, including election to the American Academy of Art and Science and the European Academy of Science. She is a fellow of the American Physical Society and was named among the Leading Scientists of the World by Cambridge. She was recognized by the American Physical Society with the Maria Goeppert Award. 
Alessandra takes up this role with Discovery at a time when higher education demands innovation, and the role of colleges and universities in preparing students to succeed in their post-college career is under scrutiny. Alessandra is ready to leverage Berkeley's distinctive history, originality, and strengths to light the way toward a new era in higher education.